TYPE H AND H CLASS (HAZARDOUS OR TOXIC MATERIAL)
Type H Industrial Vacuums
Type H Industrial Vacuums are designed and tested to meet international standards IEC 60335.2.69, Wet & Dry Industrial Vacuums for Commercial Use. Type H or H Class Industrial Vacuums are used to pick up Hazardous dust like Asbestos, Silica, Carcinogens, Toxic Chemicals and Pharmaceutical Products.
Main Cherastricts of Type H vacuums is its waste handling and filtration capacity. The market is full with type H Vacuums equipped with H13 HEPA Filters and built with expired compliance standards.
Dirt Eater is tested and certified by TUV for IEC 60335.2.69 :2017 and AZ/NZS 60335.2.69:2017 standards.
Dirt Eater uses Oversized H14 HEPA filter as the main filter. Dirt Eater has prefilter made out nine filter bags that filters most of the dust before reaching the main HEPA filter. Twin filtration of Dirt Eater gives safer waste management operations in Hazardous Dust Handling operations.
Dirt Eater uses 200micron Plastic Bag to collect the dust. Once the operation is over, it can be safely removed from the vacuum and can be stored or transported securely. This mechanism also reduces double dust handling issues in processes such as Asbestos removal.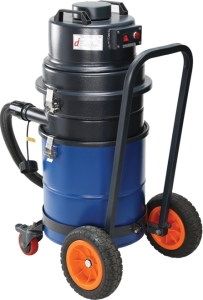 EXCLUSIVE FEATURES OF
INDUSTRIAL VACUUMS
We have extensive experience in designing and manufacturing industrial vacuum cleaners for liquids, solid, radioactive and hazardous waste management, as well as waste management remodeling. We can construct Industrial Vacuum Cleaners for a range of industry sectors such as Asbestos Removal, Concrete Grinding, Construction, Surface Preparation, Food and Beverages, Paints and inks, Strip outs and Demolition.
TRY IT BEFORE YOU BUY IT
INDUSTRIAL VACUUM CLEANER OPTIONS
Vacuum Cleaners with long hose capability
Fine dust vacuuming with continuous suction
Customised vacuum models & specialty applications
Wet and dry vacuuming
Extra large capacity
Many useful vacuum waste handling options
LATEST NEWS & EVENTS
SUBSCRIBE TO OUR NEWSLETTER & GET THE LATEST NEWS ON TIME